BOULDER MONTANA AREA
Boulder, Montana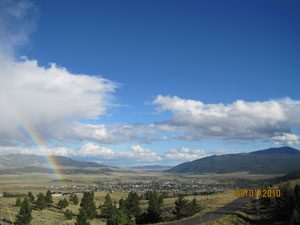 Even though the Boulder area is very scenic and historic, it is not a traditional "vacation destination". The countryside consists of a valley surrounded by the Elkhorn Mountain range.
The town of Boulder has two grocery stores, several cafes, taverns, bank, post office, hardware store, library, hair salon, museum, senior center (lunch program 3 days a week), thrift shop, outdoor swimming pool, bowling alley, gas station, auto repair, child daycare, parks and churchs.
Medical services include a dentist, a county health nurse, and a medical clinic. The medical clinic is open during weekdays with Physicians Assistant on hand. Doctors may be seen by appointment.
Medical emergencies may require the services of 911 or a drive to Helena or Butte. Rx refill services are available locally at Elkhorn Pharmacy.
Weather
Expect inclement weather at most any time of the season.  Brief, intermittent snow fall may occur through June.  Scattered snow may start as early as mid September. Prepare yourself and your car accordingly. Summers are usually hot and dry with intermittent wind and rain. Peak visitor season is June through early October – busiest at the beginning of the month. Be sure to reserve accommodations in advance.
Mail
Mail may be received in c/o the Free Enterprise Mine, PO Box 67, or general delivery. UPS and FedEx will deliver to the Mine: 149 Depot Hill Road, Boulder MT 59632.
Nearby city & tourist information
• Butte/Silver Bow Chamber of Commerce
• Plan a Montana vacation: lodging, history, weather, maps, things to do and see
• Boulder Area Chamber of Commerce 
• Jefferson Local Development Corporation
• Southwest Montana (multi county area tourism)
Boulder Hot Springs
In between treatments in the mine, enjoy the hot springs only a couple miles away:
Montana's historic Boulder Hot Springs Inn and Spa is located almost mid-way between Butte and Helena just off Interstate 15. It rests in the midst of southwest Montana's spectacular beauty of snow-capped mountains and lush valleys. The Inn & Spa sits on almost 300 acres of pristine meadows, wetlands and forest. The air is pure and the sounds you hear are those of nature. The Inn is backed by Deerlodge National Forest, home to bears, moose, elk, deer, fox, antelope and coyotes.